We all know by now that the start-up world is a very exciting one to work in. Yet, it always seemed a bit farfetched for me to be an entrepreneur and start working for myself. But is this feeling justified? I now think that, once you have a good idea of what you are passionate about, it shouldn't be that hard.

So many young entrepreneurs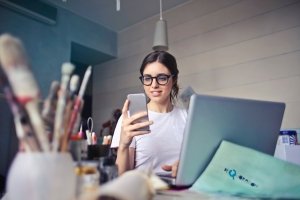 More and more people probably know this feeling since the amount of start-ups in the Netherlands is growing each day. At the beginning of 2020, the Netherlands counted over 2 million businesses. Surprising is that the amount of young people that start their own business has grown by 30%in 2019 compared to 2018. These young people are below or at the age of 18. It is incredible that so many young people even dare to take the risk at the age of 18 to start their own business. Additionally, according to the Netherlands' Chamber of Commerce, the youngest entrepreneur in the Netherlands is only 9 years old, which shows that you are never too young to be an entrepreneur.
Working from your home
It is not strange that so many young people start their own company since it is relatively easy to start something from behind your computer. Also, we live in an age in which it is normal and even encouraged to start your own business. Loads of high schools, for example, have an entrepreneur course in their program embedded in a course like 'Management & Organization'. I also had to start up my own company for such a course in high school together with fellow students. However, we missed the entrepreneurial spirit and a good idea, so it didn't work out for us. Yet, for loads of students, it is a good first step to kick-off an idea that they already had.
In primary school, the idea of working for yourself is also already introduced in loads of schools. Children are not raised with the idea that they can only become employees in someone else's company anymore.
Challenging but rewarding
Popular fields of business in which students start their own company in the areas of ICT, media, retail business, and business services. And although juggling being an entrepreneur with school, your social life and your hobbies can be a challenge, it is also really rewarding once your business is running.
Start-up successfully
So, what makes a start-up a success? Well, if we knew the exact answer to that question, no business would fail anymore. However, one thing that should definitely be present is passion. Having your own company is hard work, and all that work is made so much easier once you are doing what you love to do. A second thing that might help you is a bit of guidance. Arranging everything, in the beginning, might take up a lot of time and can be quite challenging. Luckily the Netherlands' Chamber of Commerce offers a lot of guidance and organizes events for starting entrepreneurs. Moreover, there are plenty of websites that describe in detail how to take each step.
So do you have a good idea, and there is a market for your product? Then don't be afraid and kick-off your own business.

This post was written by AIESEC in the Netherlands. We offer international voluntary projects and professional internships with the aim of developing leadership in youth.