Hi! I'm Roos and I'm from the Netherlands and finished my Business Administration bachelor at Radboud University this June. This year I have a gap year in which I'm doing as much things as possible to develop myself in other fields than my study. I did a minor in information science, I'm trying to start my own business in fashion and last but not least: I joined AIESEC Nijmegen as a content creator and online marketing manager. I believe that through AIESEC we can make a positive impact on the world and its future and I'm really happy to be part of that!
Normally it can be difficult to stay motivated when working or studying. Now, the pandemic forces the most of us to work and study at home, staying motivated can become an even bigger issue. Some important things to keep track of during the pandemic to stay motivated to bear in mind are:
Get in the flow
Without a structured day, time can slip away since your productivity will most likely decrease. When obtaining a clear schedule each day, this will save us time since less decisions have to be made and you know what you are up to. Also keeping track of to-do lists will help with reducing the decisions throughout the day. Make sure to have an achievable schedule and to-do list for the day to not demotivate yourself by expecting too much! Furthermore, when having a clear schedule each day, it will become a routine. Because your tasks then become standardized you will be more sufficient. This all saves time and time our most valuable asset!
Cleaning up cheers you up!
Nowadays most of us spend more time at home than ever. Most of all because our home has become our new working environment. So now it's all the more important to have a decluttered and organized home. However, when spending a lot of time at home and having less people coming over, it might be tempting to tidy up a bit less well. Nevertheless, a cluttered home will cause too much sensory information and can be quite overwhelming, it increases your stress and anxiety levels, reduces your sleep quality, and reduces productivity and creativi
ty. When we have tidy and organized physical environment, we have less distractions of the clutter and can lay-out our thoughts more clearly. Also, your sleep quality, productivity, creativity and stress and anxiety levels will improve. So keep on cleaning up!
Have fun
This tip may be a bit obvious but is very important to stay motivated during this pandemic. A lot of things that are considered fun and give us energy, such as going out and meeting up with friends, are not possible anymore. It is good to be aware of the activities in your planning that cost energy and give you energy. Finding a good balance in energy costing and gaining activities is essential. Also, rewarding yourself after hard work is a great incentive to stay motivated to reach your goals because we are more likely to repeat behavior that is followed by a pleasant outcome.
This post was written by AIESEC in the Netherlands. We offer international voluntary projects and professional internships with the aim of developing leadership in youth. 
https://aiesec.nl/wp-content/uploads/2020/11/GlobalVolunteerCsicselyBarbaraSriLanka_68594897_GrouppictureSigiria-scaled.jpg
2560
2560
admin
https://www.aiesec.nl/wp-content/uploads/2017/09/AIESEC-logo-white-blue-letters-300x43.png
admin
2020-11-26 19:52:43
2020-11-26 19:52:43
Exchange in Sri Lanka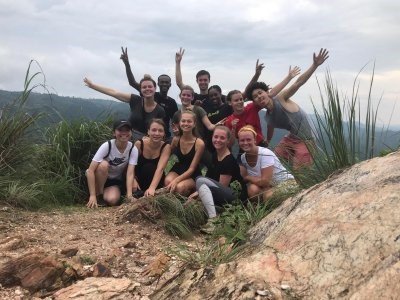 https://aiesec.nl/wp-content/uploads/2020/09/Sabine-foto-4.jpg
300
400
admin
https://www.aiesec.nl/wp-content/uploads/2017/09/AIESEC-logo-white-blue-letters-300x43.png
admin
2020-09-24 14:33:56
2020-09-24 14:47:51
My Experience in Ghana
https://aiesec.nl/wp-content/uploads/2020/04/GlobalVolunteerGalandManonColombia_68594893_71079928_1945655272246510_3094890400557563904_n.jpg
699
699
Jesler van Houdt
https://www.aiesec.nl/wp-content/uploads/2017/09/AIESEC-logo-white-blue-letters-300x43.png
Jesler van Houdt
2020-04-08 05:11:31
2020-04-08 05:11:31
Proyectarte in Colombia - Memories for life
Click here to add your own text