It was only 6 days before departure that I booked my flight ticket to Amman, Jordan. The couple of days I had left in the Netherlands were just enough to finish my last tasks as an AIESEC member and to pack my bags. With almost no expectations I got onto the plane to visit my first country in the Middle East, ever.
In the month before going abroad was a little bit stressful. Finding my perfect project was not easy: I did not know whether to go for volunteering or an internship. Further, I did not know which country to choose. Reminding myself of the initial reason to go abroad with AIESEC – discovering the Middle East, learning about the Arab culture, living and working together with locals – helped me to understand I could not make a wrong choice.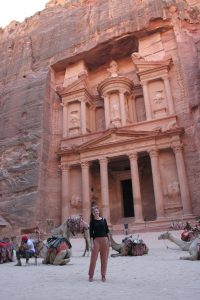 After arriving in Jordan I learned that I could not have been luckier! I got to live in a really nice apartment – arranged by the company I worked for – shared with 3 Jordanians and 1 Italian girl. The Italian girl and I worked together in our internship for AdventurePROS. An outdoor activities company that organizes adventurous activities in the beautiful canyons of Jordan. During the weekdays we managed the English Facebook page and worked on finalizing and improving the website. The end goal of those responsibilities was to attract more international customers to the company.
During the weekends we were invited for canyoning and hiking trips. We explored the beautiful nature of Jordan, and I learned that Jordan's nature does not only consist of sand and rocks. There are many different wadis (canyons) where natural swimming pools, streams and waterfalls are present.
Besides joining AdventurePROS' activities, my weekends were filled with trips to explore all the beauty Jordan has to offer. My (Jordanian) colleagues and housemates turned out to not only be nice people to work and live with, but to be the best guides, translators and Jordanian culture experts as well! Together we made trips to the Dead Sea – the floating is amazing! –, one of the seven wonders of the world Petra and the Wadi Rum desert, amongst other places. We had lunch together at the Jordanian family of my housemate and colleague. During my stay in Jordan, I met a lot of Jordanians. I now know that Jordanians are really warm and welcoming people. They value family and friends a lot, and besides that: they like good food!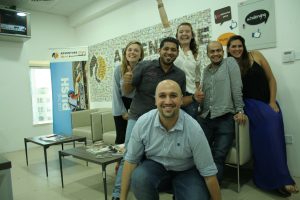 The 7 weeks I spent in Jordan were over before I realized. My housemates and colleagues turned into true friends, my Arabic improved from zero to a handful of words and I learned that I want to explore more of the Middle East! Looking back at the initial stress, I now understand that the only wrong decision could have been not to go!