Hier in Marokko betekent gastvrijheid meer dan het Nederlandse kopje koffie met een plakje ontbijtkoek. Als je bij mensen thuis wordt uitgenodigd krijg je in ieder geval muntthee met 4 suikerklontjes en worden er schaaltjes met eten voor je neergezet. 'Coelie', krijg ik altijd te horen. Wat 'eet' betekent. En dit geldt niet alleen voor goede vrienden of familie. Soms ook voor wildvreemden.
Zoals een paar dagen geleden. Ik zat alleen op een bankje in de zon totdat er twee Marokkaanse meisjes naast me kwamen zitten. We raakten aan de praat over Marokko, culturen en onze levens. Na een tijdje te hebben gekletst vroegen ze of ik zin had om mee rond te wandelen door de stad. Zo kwam het dat ik de hele rest van de middag met ze heb gespendeerd en uiteindelijk bij een van de twee, Sarah, thuis uit werd genodigd voor een kopje thee.
Haar moeder begroette me in haar badjas met 3 zoenen en zei dat we in de salon konden gaan zitten. Dit is de mooiste plek van het huis die alleen wordt gebruikt als er gasten zijn.
Ik voelde me een beetje ongemakkelijk dat ik zo werd verwelkomd in een vreemd huis, maar Sarah zei dat ik kon doen alsof ik thuis was. Haar moeder bracht ons thee en allerlei eten. Naast dadels, amandelen en olijven was er cake en melui (een soort pannenkoeken). Het smaakte allemaal heerlijk en ik had mijn portie suiker voor de rest van de week wel binnen.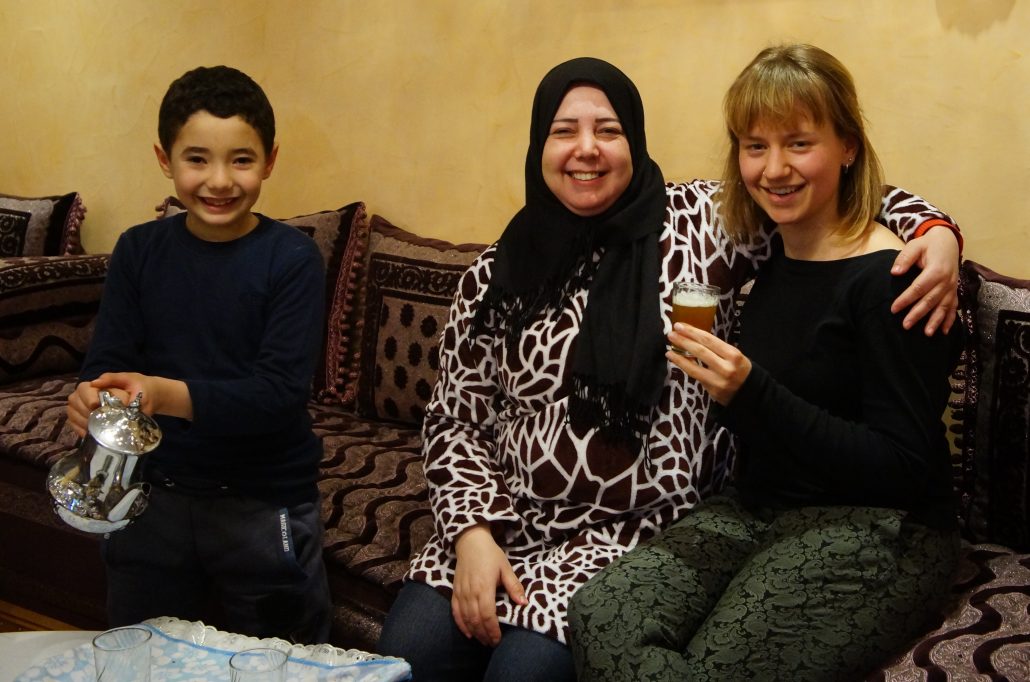 Sarah vertelde me dat ze 5 jaar geleden mee had gedaan aan de missverkiezingen in Marokko. Mede dankzij de kattenopvang van de buren. Ze had tegen de jury verteld dat ze de kattenopvang had opgericht en de mensen waren hier van onder de indruk. En zo kwam het dat Sarah 3e werd bij de missverkiezing. Dit had tot gevolg dat kattenopvang beroemd werd. Eigenlijk werd iedereen hier beter van.
Na dit verhaal was ik wel benieuwd naar de kattenopvang, dus gingen we op bezoek bij de buren. Hier konden we zo naar binnen lopen. De deur stond altijd open voor bezoek, vertelde Sarah me. Maar liefst 80 katten troffen we aan. In allerlei soorten en maten, en allemaal met hun eigen gewoontes. Kater James kwam in mijn nek zitten terwijl hij enthousiast kopjes gaf en een ander katje kroop al spinnend in mijn armen. Vaak vertrouw ik katten niet helemaal. Echter waren deze katten echte schatjes. Ik gaf ze aandacht en ik kreeg er heel wat kopjes voor terug. Er waren blinde katten, manke katten, normale katten en kleine kittens. De eigenaar kende ze allemaal. Sarah bleef op een afstandje, eigenlijk hield ze helemaal niet van katten.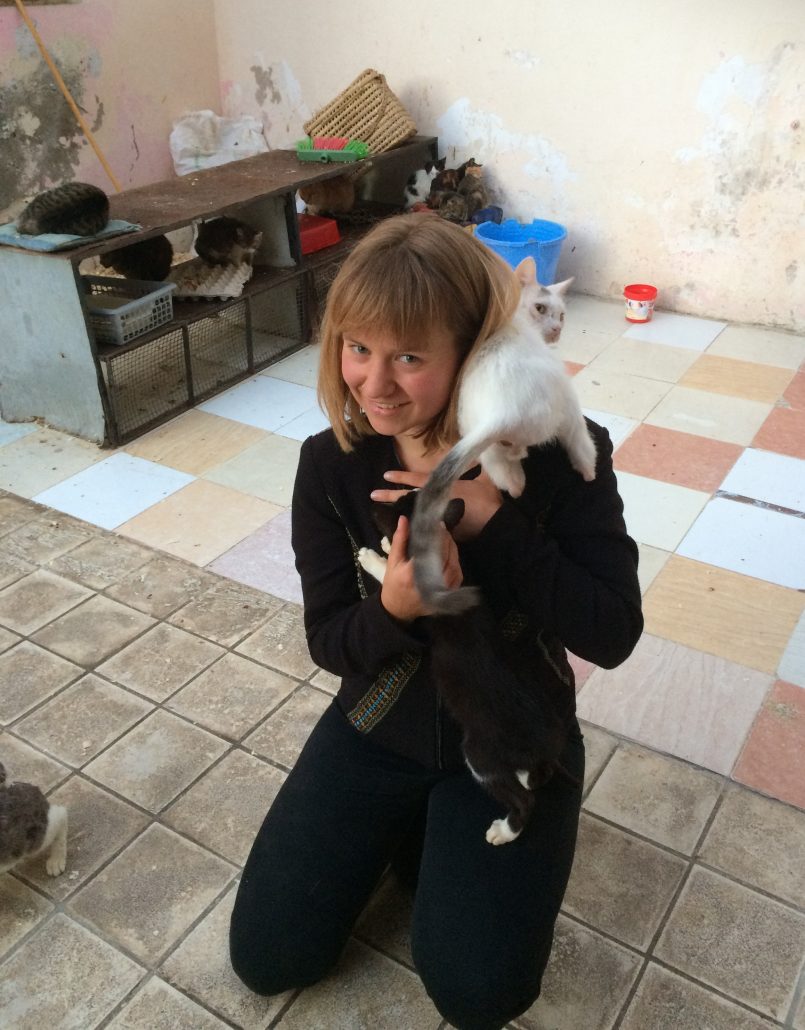 Na vier weken in Marokko ben ik al vaak verrast door de gastvrijheid van mensen. Soms wat ongemakkelijk ga ik in op de uitnodigingen. Ik merk dat ik heel erg gewend ben iets terug te geven als ik iets krijg. Geven en nemen als soort ruilhandel, maar ik merk nu dat niemand dat hier van me verwacht. Gister zag ik zelf eindelijk een kans om gastvrij te zijn. Ik had aardbeien gekocht en wilde ze delen met 3 Duitse meisjes. Na heel wat gestamel namen ze ieder een mini aardbei. Nadat ik zei dat het echt te veel was voor mij alleen pakten ze ieder nog een kleintje. Ze waren veel te beleefd. Nu snap ik de Marokkaanse moeders die me telkens aandringen om meer te eten. Het is fijn om gezellig samen te eten en drinken. De reden dat mensen je uitnodigen is omdat ze graag willen delen.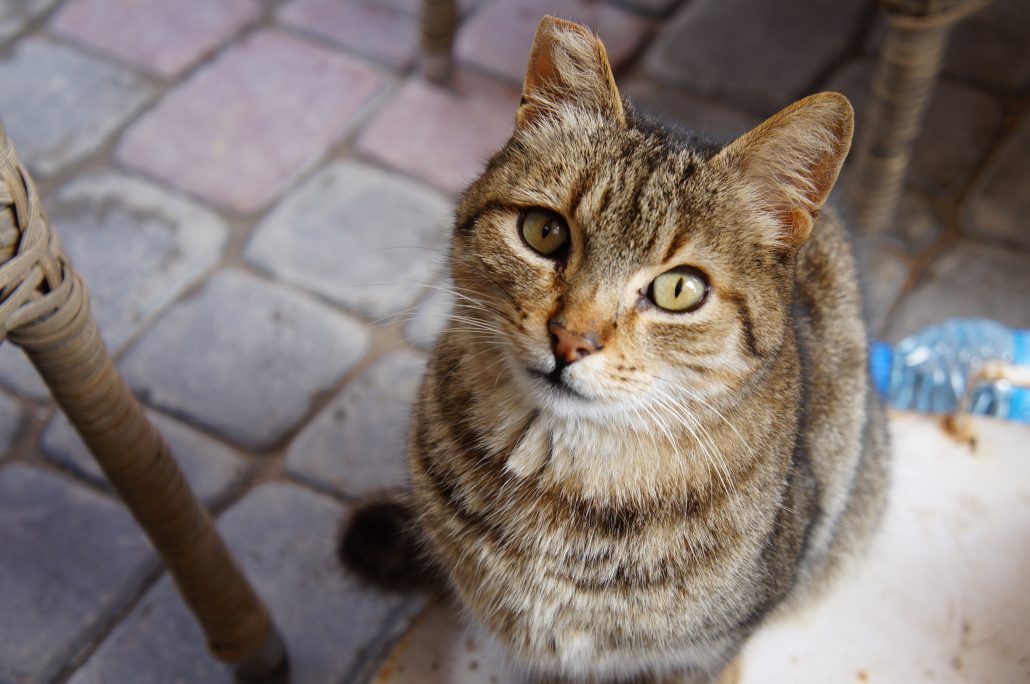 This post was written by Janneke Jolink. Janneke went on an exchange with AIESEC in the Netherlands. We offer international voluntary projects and professional internships with the aim of developing leadership in youth.