My name is Sophie and I am a Trainee Manager at AIESEC Tilburg. In this blog post, I will tell you what a trainee manager does.
Our promise
AIESEC wants to make sure that people have the best experience when going on one of the products that we offer (Global Volunteer, Global Entrepreneur or Global Talent). To make sure this happens, one of the things AIESEC promises is to help you with the whole process from start to finish.
Trainee managers are a big part of this process. We help the trainee from the moment they get accepted to their traineeship in the Netherlands, until the moment they leave again. As a trainee manager, you are the contact person from AIESEC for them. We help trainees with all the formalities, personal development and social contact. The first part of the function as a trainee manager is mostly helping with formalities, the second part regards more personal development.
First steps
The first part of the function starts when a trainee gets accepted for an internship. This is very exciting for them, but also for us. A new person will be joining us here in the Netherlands. It's always very interesting to get to know them and learn what their motivation for the traineeship is. We make sure the trainee feels welcomed and knows what to expect from us.
Before a trainee arrives in the Netherlands, insurance and housing needs to be arranged. You are arranging these formalities together with the trainee. Finding housing is always a tricky thing in the Netherlands, but one way or another it always works out fine.
From the moment they arrive
When a trainee arrives in the Netherlands, there are formalities that need to be done as soon as possible. The trainee needs to get registered at the municipality, get their residence permit and much more. During this process you will get to know the trainee better, this is always very nice. For trainee managers, this is the busiest time of the process, and also a very important part. If this part of the process gets done properly, you will notice that the trainee is a lot more involved with AIESEC during their traineeship.
The second part
Next to all the formalities, there are still some exciting things left to the function of a trainee manager. This is the more rewarding part of the function. AIESEC promises that during your experience you will experience personal development. Together with your trainee, you will set goals to achieve within the time that they are here in the Netherlands. We do this three to four times depending on the duration of the traineeship. Personally, I find these talks very rewarding. You will get to know the trainee very well and also get an idea of what the experience is like for them. You can also practice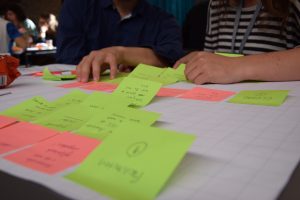 your communication and coaching skills during these talks yourself.
Another thing trainee managers do is organizing activities for the trainees. At least once a month, we try to gather all trainees so that they can get to know each other and the AIESEC Tilburg board members as well. Tilburg has 8-12 trainees most of the time, so it is always a challenge to make sure everyone can be present at the activities. For a trainee, working 40 hours a week, in a country he/she just moved to, and also wanting to make social contacts, can be very difficult to combine. This is why the trainee activities we organise can really make a difference to someone's AIESEC experience.
It's exciting!
As a trainee manager, you will get to know people from all over the world. You will get to experience what it is like to work with different kind of people, with different cultural backgrounds. Next to this, you also work in the Incoming Global Talent (iGT) team, a team with quite some responsibility. Our team works together with companies, and these companies expect us to deliver the product we promised them, so we need to keep living up to these expectations. If we do this, there is a higher chance that the company wants to keep working with us in the future. This requires teamwork between the different functions within our team. Something you will learn very quickly when you are working in a big team like iGT.
So as a trainee manager, you have a lot of different things you do for your function. You can decide for yourself in what way you do all of these things, and choose what to focus on. Depending on how much time you will put into your function, you will get a lot of appreciation for what you do. And next to all of this, you will learn communication, teamwork and coaching skills yourself.

This post was written by AIESEC in the Netherlands. We offer international voluntary projects and professional internships with the aim of developing leadership in youth.