Expanding my Comfort Zone With AIESEC
"This project taught me that a lot of the things that you think you can't do are already inside you, you just have to believe in yourself."
I had just finished my university degree and started my gap-year when I decided to sign up for a project with AIESEC. At the time I was struggling with a lot of anxiety which prevented me from pursuing my dream of traveling the world during my time off. To me, participating in an AIESEC project seemed to be a way to overcome my anxiety; it offered me the perfect combination of safety and freedom. Yet I was still a little skeptical.
Was this really the way to overcome my own anxieties? Did the project really line up with my interests and skills? Would it look nice on my CV and help me further academically? Was an organization like AIESEC even really something for me?
As you can see, the mind of a worrier at work. But while my mind was churning on all the possible horror-scenarios, the experience showed me the exact opposite.
During my time in Greece I worked at a kindergarten where I introduced the kids to different aspects of the Dutch culture and, where I could, global cultures. Of course, as I had worried, the project wasn't necessarily a continuation of my academic interests, but it taught me so many valuable skills. Working together with the teachers to create a suitable schedule that matched both our expectations helped me improve my communication and team-work skills. The relatively impulsive changes to the schedule and the bold attempts of children to tell me their stories, ignoring the language barrier between us, taught me how to be more spontaneous and problem-solving.
While the project itself taught me these valuable skills, my overall experience in Greece and with AIESEC was even more valuable to me. In the Netherlands I often struggled to deal with uncertainties, but during my experience in Greece I learned to overcome the need to feel 100% prepared at all time. Greek culture is simply less structured and stressful than Dutch. Changing my environment showed me the elements of my life that I enjoy, but also the things that I would rather change.
I spent my time in Greece feeling very carefree. Through my host I met many wonderful people and I made impulsive choices to travel within Greece, something I never would have done before this experience. During my stay people often complimented my strengths and helped me to see them myself, for example during the meetings organised by my local AIESEC team. These reinforcements helped me to shift my focus from my weaknesses to my strengths and doing so significantly decreased the impact of my weaknesses on my life.
So, all in all this project taught me that a lot of the things that you think you can't do are already inside you, you just have to believe in yourself. Every experience will give you something new, so don't hesitate to join one of AIESEC's projects. Go and experience and learn from everything that you do!
This post was written by Rosanne van Kommer. Rosanne went on a Global Volunteer project powered by AIESEC in the Netherlands. We offer international volunteering projects and professional internships with the aim of developing leadership in youth. 
https://aiesec.nl/wp-content/uploads/2020/11/GlobalVolunteerCsicselyBarbaraSriLanka_68594897_GrouppictureSigiria-scaled.jpg
2560
2560
admin
https://aiesec.nl/wp-content/uploads/2017/09/aiesec-logo-blue-300x43.png
admin
2020-11-26 19:52:43
2020-11-26 19:52:43
Exchange in Sri Lanka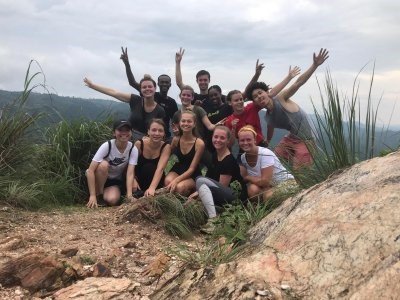 https://aiesec.nl/wp-content/uploads/2020/09/Sabine-foto-4.jpg
300
400
admin
https://aiesec.nl/wp-content/uploads/2017/09/aiesec-logo-blue-300x43.png
admin
2020-09-24 14:33:56
2020-09-24 14:47:51
My Experience in Ghana
https://aiesec.nl/wp-content/uploads/2020/04/GlobalVolunteerGalandManonColombia_68594893_71079928_1945655272246510_3094890400557563904_n.jpg
699
699
Jesler van Houdt
https://aiesec.nl/wp-content/uploads/2017/09/aiesec-logo-blue-300x43.png
Jesler van Houdt
2020-04-08 05:11:31
2020-04-08 05:11:31
Proyectarte in Colombia - Memories for life